Results
Sustained general growth in more recurring revenues items in practically all geographic areas.
Operating expenses remain under control, leading to an improvement in the efficiency ratio in comparison with January-September of the previous year.
Impairment losses on financial assets down on the same period of 2016. Inclusion in the third quarter of provisions in the United States stemming from the estimated negative impact of recent natural disasters.
As a result, the accumulated net attributable profit is €3,449m, up 23.3% year-on-year.
Net attributable profit (Million euros)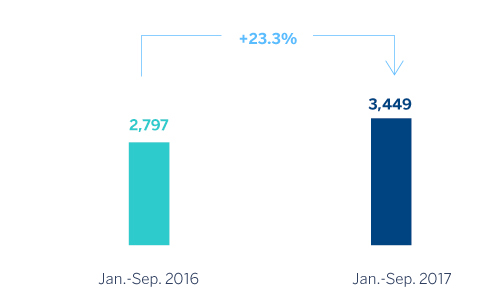 Net attributable profit breakdown (1) (Percentage. January-September 2017)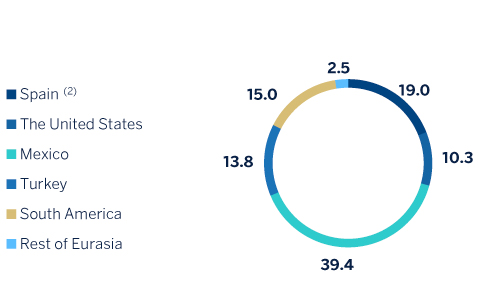 (1) Excludes the Corporate Center.
(2) Includes the areas Banking activity in Spain and Non Core Real Estate.
Balance sheet and business activity
Loans and advances to customers (gross) continue to increase in emerging economies but decline in Spain and the United States, albeit with some signs of recovery in the latter.
Non-performing loans continue to improve in practically all areas, particularly in Spain.
Deposits from customers have performed well in all geographical areas, fueled by an increase in more liquid and lower-cost items.
In off-balance-sheet customer funds, the trend in mutual funds continues to be positive.
Solvency
The capital position is above regulatory requirements and the 11% target, with a fully-loaded CET1 ratio of 11.2% as of 30-Sep-2017. This is an increase of around 30 basis points since the end of 2016, primarily due to a reduction in risk-weighted assets (RWAs) and organic generation of earnings.
Capital and leverage ratios (Percentage as of 30-09-17)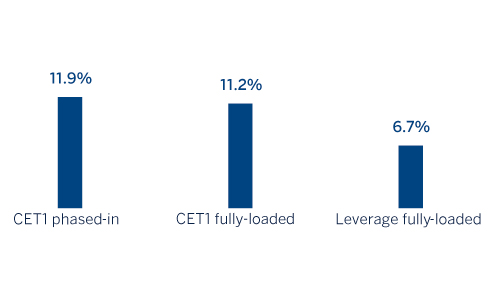 Risk management
Positive trend once again in the main credit-risk metrics: as of 30-Sep-2017, the NPL ratio closed at 4.5%, the coverage ratio at 72% and the cumulative cost of risk at 0.93%.
NPL an NPL coverage ratios (Percentage)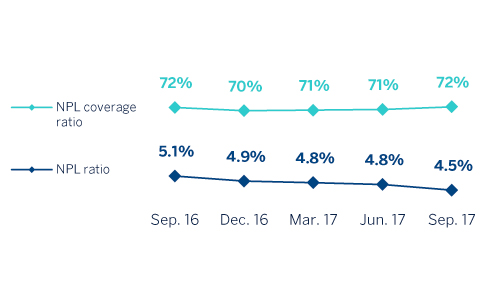 Other matters of interest
Successful first issuance of €1,500m of senior non-preferred debt.
A cash dividend was paid to shareholders on October 10, 2017 against earnings for the 2017 financial year for a gross amount of €0.09 per share.
Transformation
BBVA's global mobile customer base exceeds 15 million, up over 40% year-on-year. Customer smartphone interactions with the Bank are increasing significantly, in line with an expanding number of available services.
Digital and mobile costumers (Millions)