The performance of the stock-market indices in the United States and Europe continued to differ in 2014. In the United States the S&P 500 index closed with a year-on-year rise of 11.4%, while in Europe the Stoxx 50 index gained 2.9% in the same period. In Spain, the Ibex 35 index gained 3.7% since December 31, 2013.
In contrast, the banking sector indices have in general been weaker than the respective general indices. Specifically, the S&P Regional Banks index in the United States only gained 8.5%, while the Euro Stoxx Banks, which includes banks in the Eurozone, lost 4.9% from its closing levels in 2013.
BBVA share performance in 2014, along with major indexes is shown below: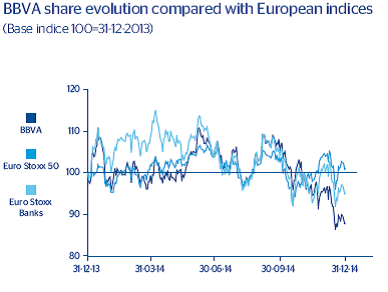 At the close of 2014, BBVA Group maintained a sound capital and balance-sheet position, which has also been confirmed by the results of the Comprehensive Assessment conducted by the European Central Bank and the European Banking Authority. BBVA's proven capacity to generate earnings and the quality of its capital ratio has made it one of the European entities that have passed this assessment with greatest ease, even under the most adverse scenario of the stress tests.
The comparative performance of the BBVA share in 2014 has been affected by its significant gains in 2013. Its price has fallen year-on-year by 12.2%, mainly in the last quarter, to €7.85 per share close of 31-Dec-2014. This amount represents a market capitalization of €48,470 million, a price/book value ratio of 1.0 and a PER of 17.3 (calculated on BBVA Group's net attributable profit for 2014).

Download Excel
BBVA share performance ratios
2014
2013
Number of shareholders
960,397
974,395
Outstanding shares
6,171
5,785
Daily average trading (number of shares)
49
56
Daily average trading (millions of euros)
437
411
Maximum price (euros)
9.99
9.40
Minimum price (euros)
7.45
6.18
Last price (euros)
7.85
8.95
Book value per share (euros)
8.01
8.18
Market capitalization (millions of euros)
48,470
51,773
Price/

fair value

(times)
1.0
1.1
PER (price/ profit; times)
17.3
23.2
BBVA Group Shareholder structure as of December, 2014:
The number of BBVA shares as of December 31, 2014 totaled 6,171 million, compared with 5,785 million as of December 31, 2013. This increase of 385 million shares is explained by the capital increases against reserves completed for the implementation of the shareholder remuneration scheme known as the "dividend option" and by the €2,000 million capital increase carried out on November 20, 2014 through an accelerated bookbuilt offering aimed at institutional investors, with the exclusion of preferential subscription rights. The capital increase entailed the issue of 242,424,244 new ordinary BBVA shares, equivalent to 4.09% of BBVA's share capital before the capital increase.
The number of BBVA shareholders as of December 31, 2014 stood at 960,397, compared with 974,395 as of December 31, 2013, a slight reduction of 1.4% over the period.
As regards the shareholder structure, 46.1% of the share capital belongs to investors resident in Spain, while the percentage owned by non-resident shareholders has continued to increase to 53.9% (compared with 52.3% in 2013).

Download Excel
Shareholders' tranches
Shareholders
Shares
Number
%
Number
%
Up to 150
237,602
24.7%
16,905,523
0.3%
From 151 to 450
205,237
21.4%
55,701,184
0.9%
From 451 to 1.800
283,498
29.5%
262,109,459
4.2%
From 1.801 to 4.500
122,226
12.7%
348,132,950
5.6%
From 4.501 to 9.000
57,042
5.9%
358,401,121
5.8%
From 9.001 to 45.000
48,230
5.0%
842,172,408
13.6%
From 45.001 onwards
6,562
0.7%
4,287,916,350
69.5%
Total
960,397
6,171,338,995
The BBVA share was traded on each of the 255 days in the 2014 stock market year. A total of 12,434 million shares were traded on the continuous market in this period, representing 201% of the share capital. Thus, the average daily volume of traded shares has been 49 million, 0.8% of the total number of shares making up the share capital, with a daily average of €437 million.
Lastly, the BBVA share is listed on the key Ibex 35 and Euro Stoxx 50 indices, with a 10.11% weighting in the former and 2.44% in the latter, as well as on several banking industry indices, most notably the Stoxx Banks, with a weighting of 4.93%, and the Euro Stoxx Banks, with a weighting of 10.11%. The BBVA share is also listed on the main sustainability or ESG (environmental, social and governance) indices, which evaluate the performance of companies in this area. Its continued presence and score on these sustainability indices depends on demonstrating constant progress in the area of sustainability. In 2014, BBVA has renewed its place on the main sustainability indices at an international level, such as the Dow Jones Sustainability Index, the MSCI ESG, the FTSE4Good, the Euronext and the STOXX. In addition, this year, BBVA has been incorporated into the investor universe of Triodos Investment Management, the Triodos Group subsidiary that manages socially responsible mutual funds. It is the only Spanish Bank on this list.
Information about the shareholder remuneration scheme can be found in Note 4 of the accompanying consolidated Financial Statements.